Location Amed
Paradise - with Stunning Ocean Views - in enchanting Amed - East Bali.
Amed is approximately 2 hours drive from Denpasar Airport and the southern resorts of Kuta and Nusa Dua. The Amed area is a series of small bays and quiet fishing villages stretching over 10km of magnificent coastline.
The safe, calm waters are perfect for swimming. Some of the best snorkeling and diving in Bali can be found in this area.
Selang Beach, where Blue Moon Villas is situated, is a mixture of golden and volcanic sand with many beautiful shells. A variety of tropical trees provide welcoming shade if you need it. You can snorkel directly off the beach.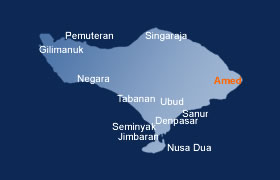 Why Amed?
If you want to relax and completely unwind, Amed is the place for you. The beaches are lined with colorful Jukung fishing boats that sail each morning at sunrise and return later to unload their catch.
In the ocean there is an abundance of vibrantly colored fish and beautiful coral gardens. We frequently see playful dolphins, many flying fish and an occasional whale.
Blue Moon Villa is both a romantic hideaway and a haven to recover from the stresses and strains of a busy life. It can also be the centre for great adventure (as much or as little as you choose.)