Restaurant
Paradise - with Stunning Ocean Views - in enchanting Amed - East Bali.
Fine dining overlooking the ocean. Our restaurant at Blue Moon villas is named after "The boss" Komang John. Just like Komang John himself, KOMANG JOHN'S CAFÉ is stylish & relaxed.
We have an International standard menu serving Balinese, Indonesian and Western Cuisine; all at reasonable prices. Our Authentic Balinese cuisine is cooked with freshly ground spices, ensuring you get the true taste of Bali.
Our restaurant serves a good Vegetarian selection, and also a Children's menu. We have a Full bar with International and Balinese Wines, Cocktails and Cold Beer. All of our food and drink is prepared with Bottled Spring Water, including the ice for your drinks. Our Charming and friendly staff will be waiting to help you in any way possible.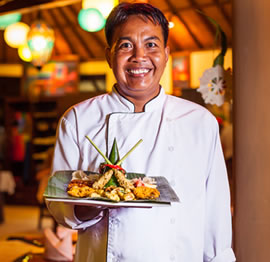 Komang John
It is my pleasure to welcome you to our place. We open our family business in 2000, I know the keys answer with all I am doing is hard working and put my heart into it. It is challenge for me to try my best but the result is worth it.
It is big joy for me when guests enjoy their stay in Bali, especially at Blue Moon Villas. I know it is not possible to please everybody in every time, but I always make best effort. My moto "Small but Heavenly and Interesting" This how I think about Blue Moon Villas and Komang John Café, I hope will be same for you.
Matur Suksma
Komang John
Menu
We serve authentic Balinese cuisine; with speciality dishes from East Bali, traditional Indonesian cuisine and delicious and varied Western dishes; from fish and chips to Greek salad.
WE DO NOT USE MSG. OUR FOOD IS PREPARED WITH SPRING WATER.
INTERNATIONAL MENU
INDONESIAN MENU
VEGETARIAN MENU
VEGAN MENU
GLUTEN FREE MENU
CHILDREN'S MENU
We have a fabulous Breakfast offering a choice of:
Fresh tropical fruits
Muesli with yoghurt
Pancakes
Toast
Indonesian breakfasts
Nasi Goreng
Mie Goreng
The local village fishermen provide us with our Fresh fish daily:
Swordfish
Wahoo & Mahi Mahi
All cooked using the traditional BBQ.
Locally sourced, chicken, fruits and vegetables, are organic, where possible.
We make home made:
Our signature Mango Crumble (in season) or Chocolate Pudding Cake with ice cream is our recommendation.
Selamat Menikmati - Please Enjoy!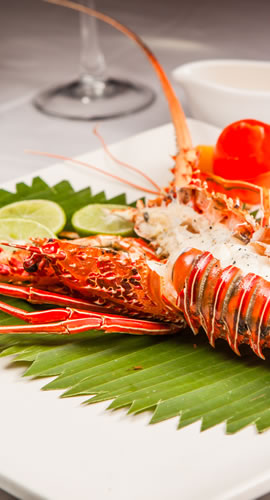 Bar
Full Bar With Exotic Cocktails
Ice Cold Beer
Wines From Around The World
Local Wines From Bali
Ice made from Bottled water
Charming, Friendly & Professional Staff
2 Private Dining Pavilions
Special Occasions Catered For
Live Band Or Balinese Dancing On Request